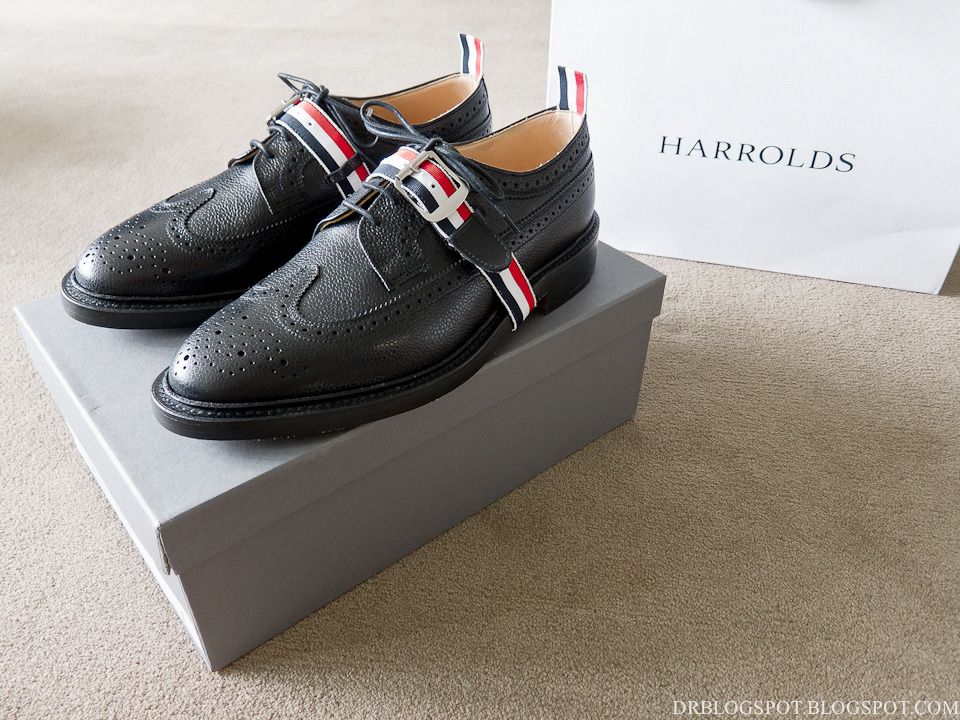 Actually the real name is 'Black Pebble Wingtip Shoe', but there are so many other known names such as 'Buckled Wingtip Brogue' or 'Wingtip Brogue Shoe Black Pebble'.
Remember mid of last month I mention that I had missed out on a pair of Suede Gray Thom Browne's that has a Tri-Colour sole shoe? I wasn't happy that I did not manage to catch it during the 50% off sale in Harrolds, but anyhow I also mention that I was looking into this pair of shoes that I had recently purchased just yesterday.
I have been eyeing on it since Oki-Ni listed it on their website, but they were too expensive at £850 ($1309 AUD). At that price I was going to buy a pair of Christian Louboutin Rollerboy Black Spikes £825, which had my size a week ago on the UK e-store, it was the last drop of stocks for Fall Winter 2012. I manage to checkout using an Australian credit card to be delivery to my girlfriend's friend who was working at Deloitte London and have it reshipped to Australia (the effort I have to invest in getting these shoes is just mad). But unfortunately customer service replied me that they do not accept overseas payment by credit card and redirected me to the sales in the men's Christian Louboutin in France. The process was very complicated, they wanted bank transfer and the shoes will be reshipped through two countries and lots of money must be paid just to get them on my feet. I gave up on those Louboutins, knowing that it will cost a lot more than what it is worth.
There is just something about this pair of Thom Browne's that I have a 'high' for. I saw this pair of shoes that were posted on Instagram by the Sydney Harrolds store about two weeks ago and instantly fell in love with it. They are probably the sexiest wingtip brogues I ever wanted after the Prada Espadrilles. I went to Harrolds in Melbourne to have a closer look, they feel really solid to walk in with, the sole has the right balance of thickness and those metal taps are just genius for long term maintenance and mileage. I got to have them, couldn't wait for the sale, never was I so desperate for a pair of shoes, not even for Balmain.
Me wearing my Thom Browne Wingtip Brogue Black Pebble Buckled Strap Shoe , more daily looks updated on my Instagram @secondkulture. Follow me! =)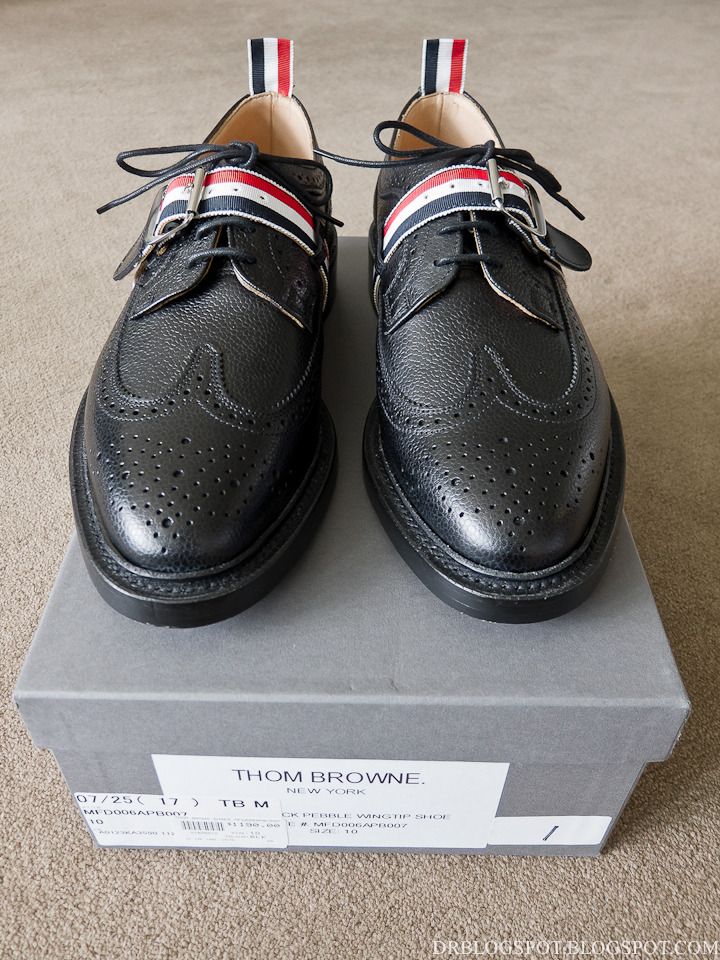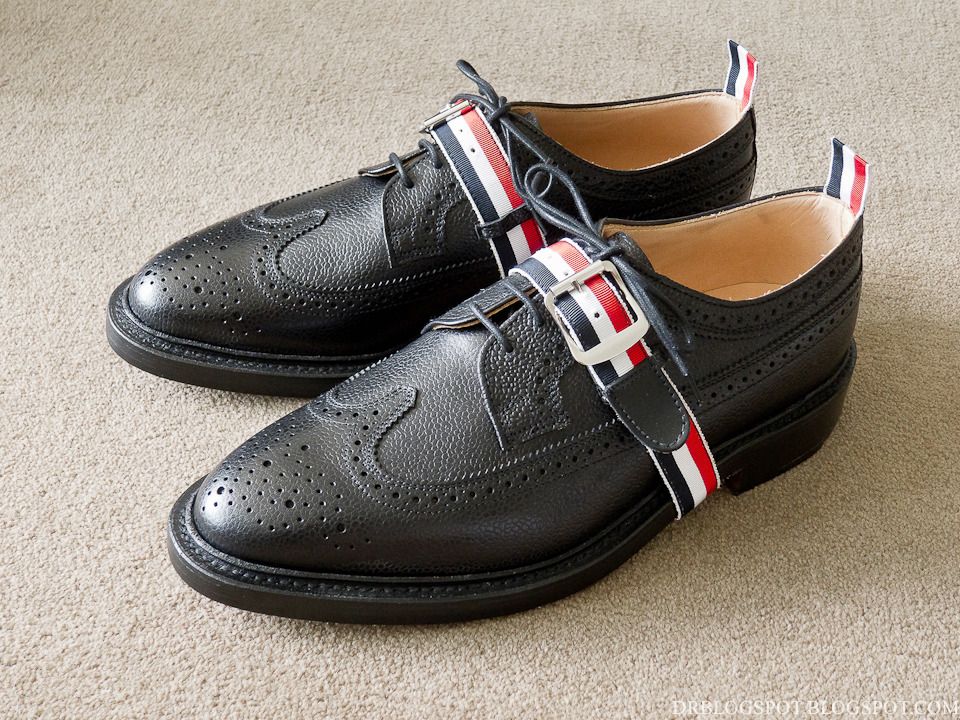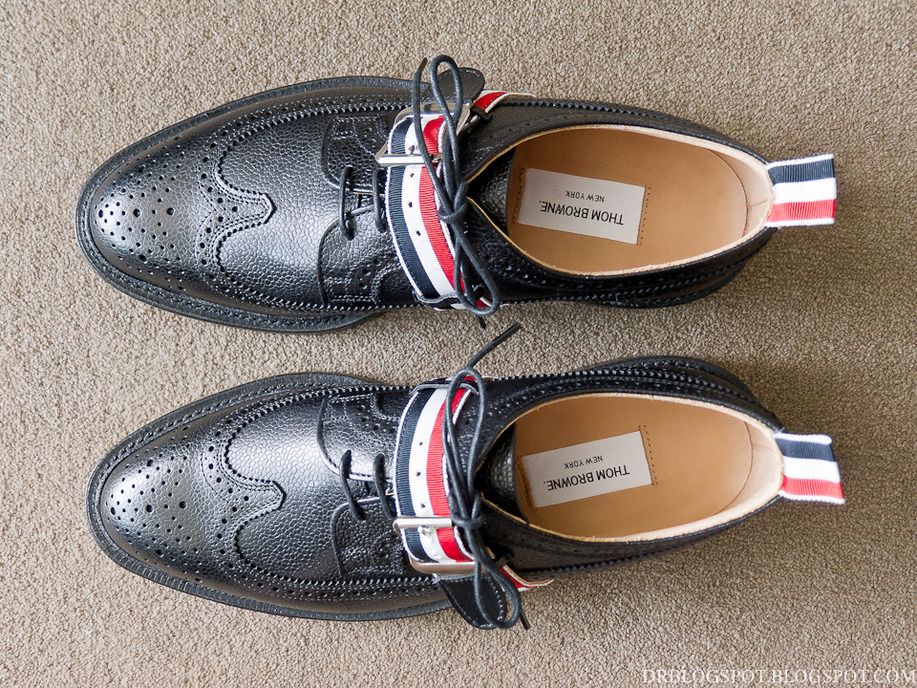 Copyright © 2012 W. X. Lim. All rights reserved. Unauthorized use, copying or direct linking of these images are prohibited.
These shoes are just pure sex, it sort of resembles a classic Le Mans sports car, i.e.
Source: Classic Driver, 2011 © Darin Schnabel, 1960 Mercedes-Benz 300SL Roadster
So what do you think? Does it win your heart now? Notice that the 'Buckled Striped Strap' I have on my Thom Browne's (above)are symmetrical compared to the others that are reversed (below. When I tried this pair of size 10 in store, it had the reverse buckled striped strap but I notice the size 7 pair that were on display are the only ones that has a symmetrical buckled striped strap. I swapped the straps in store. Now they are prefect unlike the ones below, I'm not sure whether it is a manufacturing error or intended, I find it strange if the striped is reverse on one side instead of symmetrical on both. I was lucky.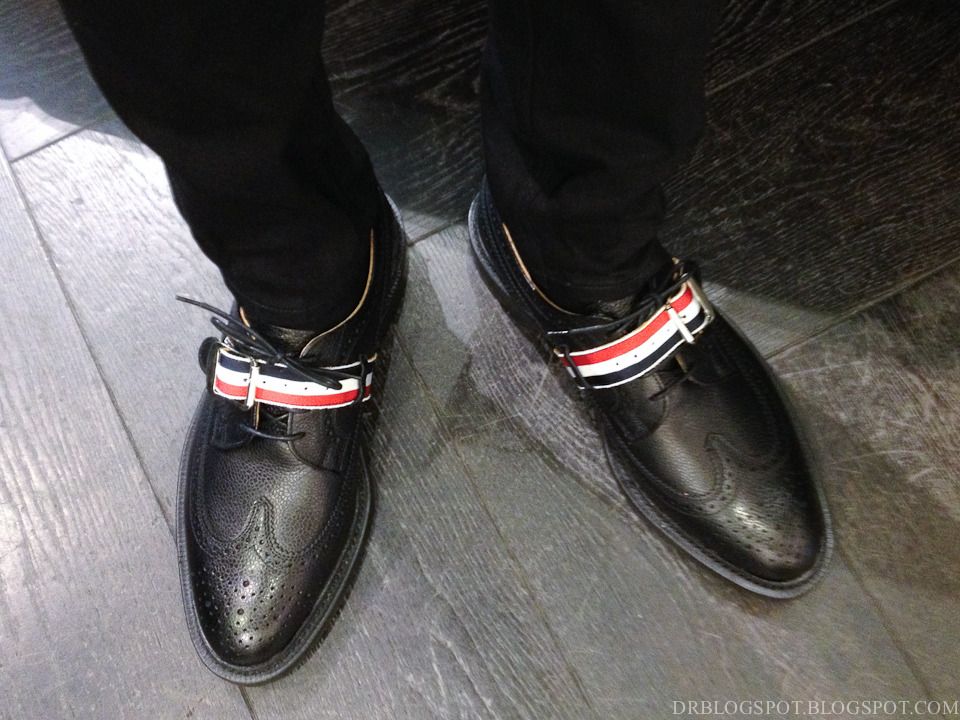 A photo of the same pair of shoes that was taken a week ago with the reverse Thom Browne striped strap, versus the Thom Browne Fall Winter 2012 runway detailed photo of the same shoe with the correct symmetrical buckled striped strap.
Websites that are currently selling the Thom Browne Black or Brown Pebble Wingtip Shoes, notice that the buckled striped strap are reverse unlike the runway detailed photo.